Book Your Wedding Harpist
You're only a couple steps away from booking your wedding harpist!
Are you excited? I'm excited! Fill out the form below with all your info (I know it's a lot, but it'll all be worth it!), and I'll get back to you within the next couple of days with my availability and some more information.
In the meantime, check out some of my latest videos on my Instagram. I can't wait to hear from you!
Booking a non-wedding event? Fill out this form!
How to book a harpist for your wedding:
Fill out inquiry form
First thing on your list is to fill out my wedding inquiry form below. I know, it's a lot of info, but it'll help me get everything prepped for you faster so you can worry about other important wedding to-do items, like cake tasting (mmmmm, cake).
Availability and quote
Up to a couple days after I receive your inquiry, I'll respond back with my availability (I'm crossing my fingers for you!) and a quote for your requested service length and location. We'll also start talking about music selections here too so you know upfront if there will be any additional fees to purchase sheet music or make a custom arrangement.
Your date is reserved
After all the details are ironed out, you'll receive an official contract and a link to pay your 50% deposit. Once both of those are received, you're in my calendar and congrats! You've just checked another vendor off of your wedding to-do list!
Gorgeous music awaits
We'll be in touch closer to your wedding for all the last-minute details, but in the meantime, couples are welcome to attend one of my virtual concerts to hear some of the music that might be played at their wedding. Other than that, you'll see me on your big day as you stand at the altar or walk down the aisle!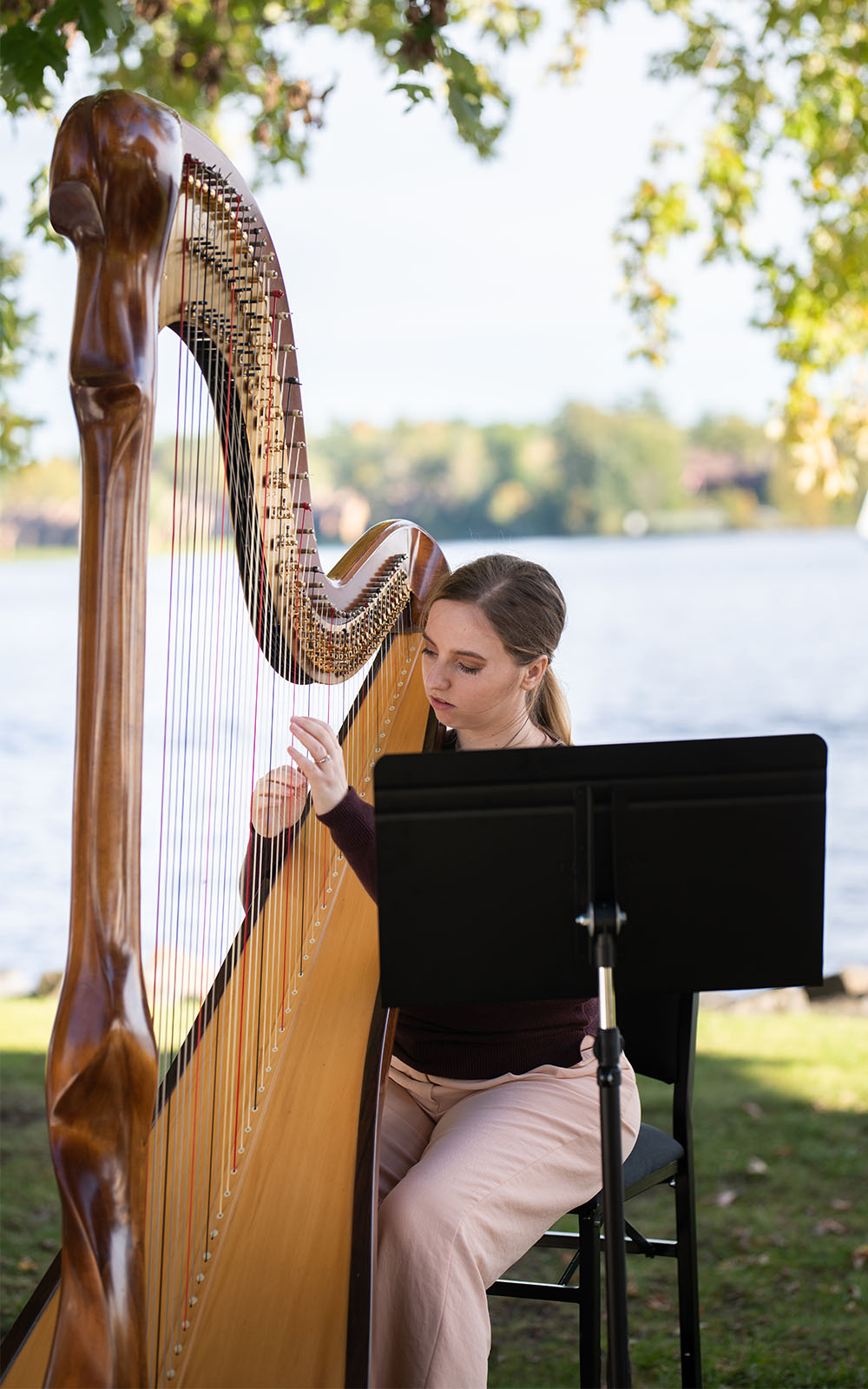 Packages and pricing
My wedding packages start at $750 depending on your location and performance length, and include:
Arrival 30min before the start of playing
Harp transportation, setup, and tuning
Prelude music, and up to 4 song selections for your wedding ceremony
Song consultations and recommendations
Options for ceremony-only, ceremony and cocktail hour, and ceremony through dinner are available, plus custom packages based on your wedding's unique needs!
Inquire to see detailed pricing
Where words fail, music speaks.
Hans Christian Andersen
Inquire About Your Wedding